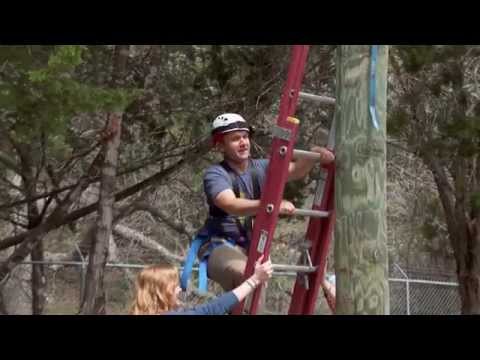 Everyone lives, works, and plays within the context of some type of connected group or team. Effectiveness, success, and genuine enjoyment within this context will only occur when each individual learns to apply their skills and talents to the team as a whole.
Our Challenge Course program is an experiential approach to team-building that involves a series of individual or group activities: physical, mental, and emotional that require a combination of teamwork skills and individual commitment. The experiential approach is based on the idea that change and growth take place when people are active physically, socially, intellectually, and emotionally and are involved in their learning rather than just being receivers of information. Our facilitators engage their groups in activities that give the participants opportunities to take ownership of their learning. We create situations that allow participants to actively explore and practice concepts they are learning and facilitate the practice of reflection on how these lessons relate to the participant's current and future real-life situations.
Please review Our Programs for more details regarding the events we offer.
To discuss specific fees and programs contact us by phone at (512) 931-2757 or email Elliott Pervinich at elliott.pervinich@georgetown.org.
Challenge Course Office Address:
1101 N. College Street
Georgetown, TX 78627
Office hours are Monday – Friday, 8 am-5 pm
Challenge Course Physical Address:
1631 Bootys Crossing Road
Georgetown, TX 78628